Sunset Beach Vacation Rentals
Oceanfront Homes & Condos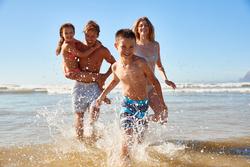 The Sunset Beach area is a peaceful beach community that prides itself on the simple lifestyle. It provides a laid-back atmosphere for residents and visitors alike. If you're planning a vacation to our area consider staying in one of our vacation homes or oceanfront condo rentals this year where the accommodations will have you feeling like you're right where you belong.
We have a large selection of Sunset Beach vacation rentals for you to choose from for your stay. From homes located on the beach to condos just inland, all with access to the top attractions of Sunset Beach. We have the exact style and size accommodations that will be perfect for you and your family. Our rentals consist of ocean view single-family homes and condos that range from a cozy, single bedroom cottage up to the eight bedroom duplexes in our inventory. In addition, you'll be as close or as far from the ocean front as you would like.
Sunset Beach, the southernmost of the three Brunswick Islands of North Carolina, is joined to the north by Holden Beach and Ocean Isle Beach. It's a beautiful place to spend time away. If you need a something different from a typical Myrtle Beach vacation, or whether you need to decompress by yourself. Sunset Beach, NC is also perfect for an entire family to join together to celebrate their roots. Our rentals are close to golf courses, local restaurants, shops, and just up the road from the Myrtle Beach's Grand Strand. You'll be pleased with the variety of Sunset Beach vacation rentals only we can offer you.
The surrounding area offers plenty of opportunities to keep busy if that's what you prefer. Staying here in Sunset Beach, North Carolina, you'll be conveniently placed halfway between Myrtle Beach, SC, and Wilmington, NC, providing you with easy access to everything the larger cities have to offer.